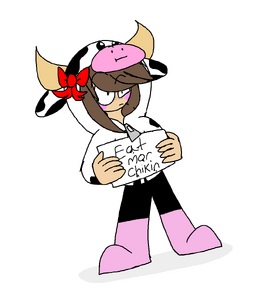 Cowafa is one of Oriana's alter-egos.
She puts on a cow hoodie and says "moo" because she thinks it's funny.
She also got kidnapped by a local fast food chain.
Her name is a pun on one of Oriana's nicknames, Carafa.
One of Lalakun0123's friends, Trentan2 was the one who originally made the pun.
She first got her cow hoodie by simply standing in a field full of cattle.